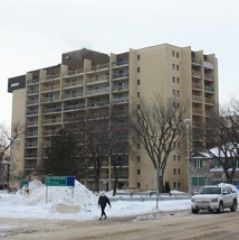 Barrington Place
Several heating seasons have passed since the installation of new hot water heating system boilers at Barrington Place located in downtown Saskatoon, SK.
Service completion: 2008
Scope of services: Auditing, Retrofit Project Management, Ongoing Monitoring of Energy Use, Federal and Provincial Grant Application
Size: 106,000 sq.ft., 11 storeys
Building system: Hot water radiators with hot water coil in central make-up air unit fed by boiler; dedicated domestic hot water boiler. Two aged heating system boilers and one domestic hot water boiler were replaced with a Viessmann Hybrid hot water heating system configuration. One, Vitocrossal CT3-57 condensing boiler (2,160 MBTU) and one, Vitorond VD2-700 near condensing boiler (2,843 MBTU) were installed. The new boiler plant provided heating for perimeter radiation, a heating coil in the make-up air unit and domestic hot water storage.
A comparison of the first two years after the retrofit was completed and reveals cumulated savings of over $36,000 for the two heating seasons. The reduction was 16.3% in the first year following the retrofit, and 30.9% the second year following the retrofit. Full federal and provincial incentives were obtained. "Perhaps Thurston's greatest contribution is their attention to detail after a project has been completed." – Property Manager, Colliers McClocklin Real Estate
Back To Portfolio